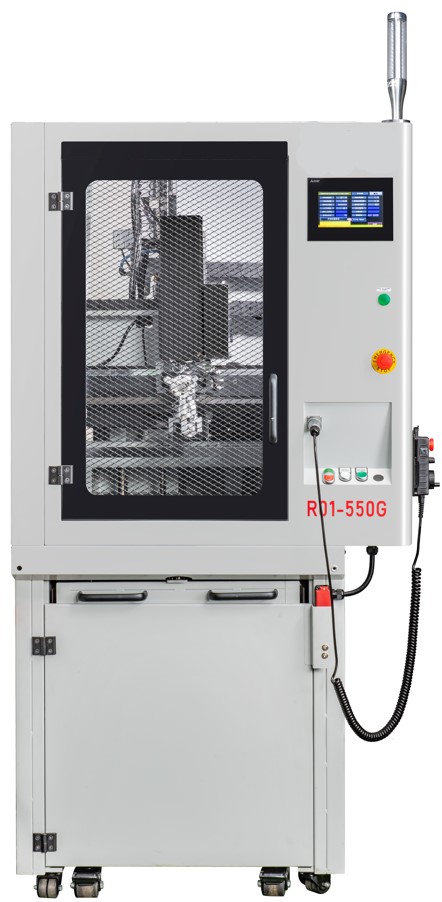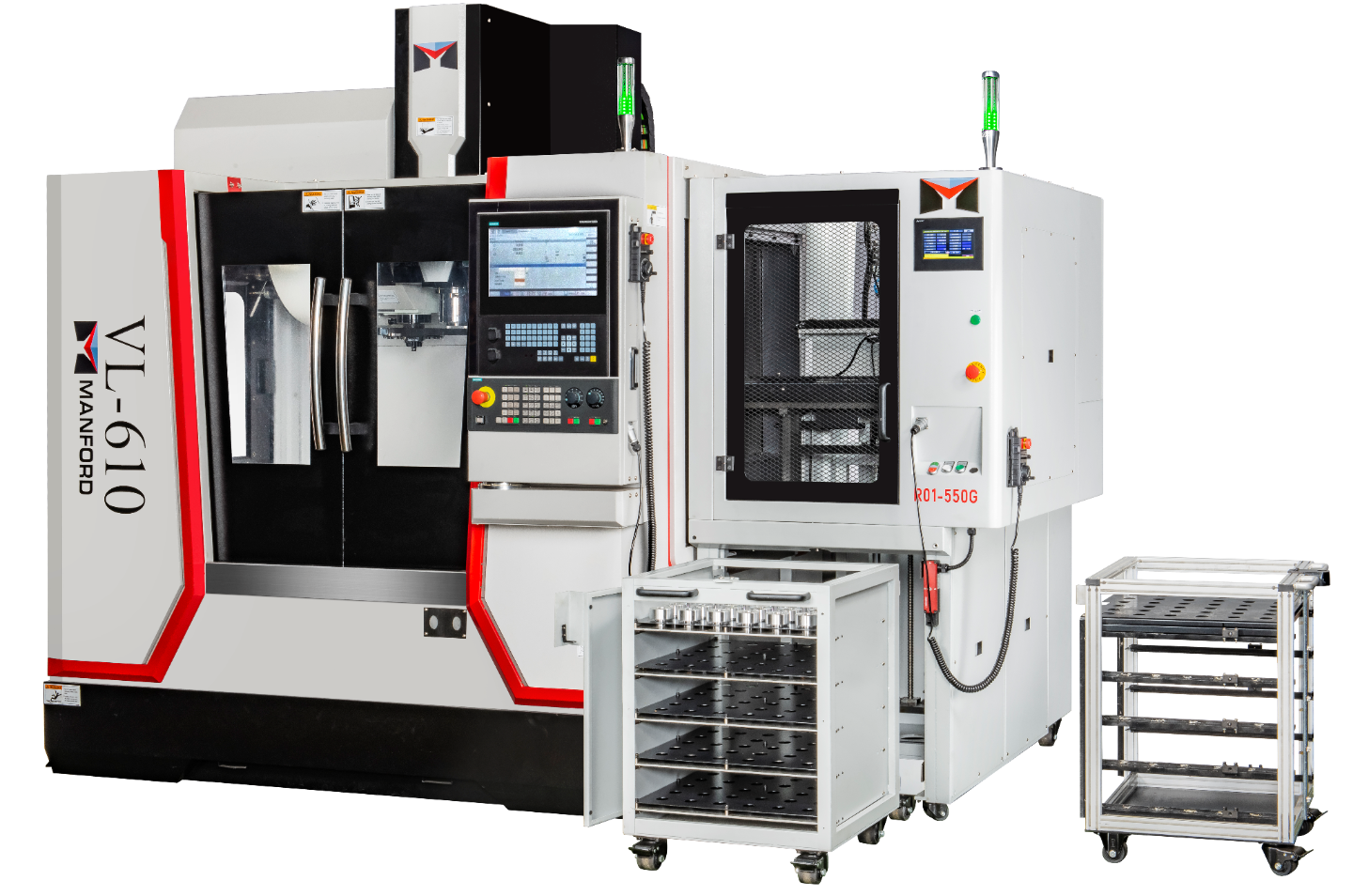 Model
R01-550G

Specifications
Clamping Weight Capacity:2kg
Clamping Dimension:W150 X D150 X H110mm
Parts Pallet Size:550 X 550mm
Max. Load of Parts Pallet:15kg
No. of Pallets:5
Max. Moving Speed:15M/min
Controller:Mitsubishi
Floor Space:W1150 X D2000 X H1950mm

Functions
Automatic parts loading/unloading
Rapid Change of Parts

Standard Accessories
7" LCD MMI Monitor X1
Parts Pallets X5
Clamping Jaws 2 sets
Parts Cart X1
Robotic Arm X1
Full-enclosure Guarding X1
Fixing/Connection Sheet Metal X1

Optional accessories
CE conformity
Parts Turning Device
Hand-held MMI Control Unit
Air Leakage Detection System
Auto Door

Features
1. Converstaional Setup Programming
Easu to learn. Step-by-step touch screen procedure to set the loader movement.

2. Magazine-style parts change
Parts can be pulled out after competion of machining. New raw piece can be put in continuously. This shortens the parts change time substantially.

3. Both sides machining (with optional parts turning device)
Parts turning device can flip the part so that it can go into the next OP directly.
4. Parts pallets providing flexibility in production
Parts Pallets and Parts cart enable the user to change the parts plate only when changing a different parts for machining. Production can be highly flexible. (We may also provide drawings of pallets for customers to create their own applicaitons)

5. Safety Features
Optional Enclosure Guarding and CE conformity can reduce risks of accidents and worker injuries.

6. Small footprint
After installation with machine, the width of the complete production unit only increases 1,100mm and saves valuable factory space.

7. Optional Auto Door
Optional auto door can be installed on the loader side. There is no need to add auto door to the machine. Special rubber strip are applied after the installation to prevent leakage of coolant.

8. Fast Installaton and Connection.
Only electric connection, mechanical parameter setter, position calibration are needed for machine operation.

0.5 Mpa pneumatic pressure meeting international eco standards